We offer a new service - the purchase of cars and heavy equipment from specialized auctions in the US, full or partial dismantling conducted at our yards, as well as container deliveries to your port of destination anywhere in the world. Our presence in the US market allows us to offer a full range of services for your business:
Description of service:

Approximate Price Breakdown:
1.

Purchasing of equipment fron any auction or city in the United States and Canada

The purchase price includes the cost of the car at the auction, auction fees and taxes, which depend on the Auction House and the type of equipment (usually between $300 and $700). If the purchase is made directly from a car dealer, the auction fee will not be charged.
2.

Land transportation to one of our stock yards, either on the East or West coasts, depending on the location of the auction house.

Shipping cost depends on the location of the auction and the distance to the port. To calculate the delivery of cars can use the Shippping Price Calculator

.

Prices vary between $200 and $2,000.
3.

Dismantling and container loading is conducted by our specilized mechanics on our yards, according to your specifications.

The cost of dismantling and other mechanical work depends on your specifications and the type of equipment involved. Approximately, prices vary between $2000 and $3000 for the full dismantling of lory trucks.
4.

Container Shipping is managed by our Logistics Department. We send containers usually once a week to all major destinations. Shipping time varies depending on the destination.

Please contact us for a specific shipping plan before commencing purchases.

Depends on the destination. Please find price estimates using the Shippping Price Calculator.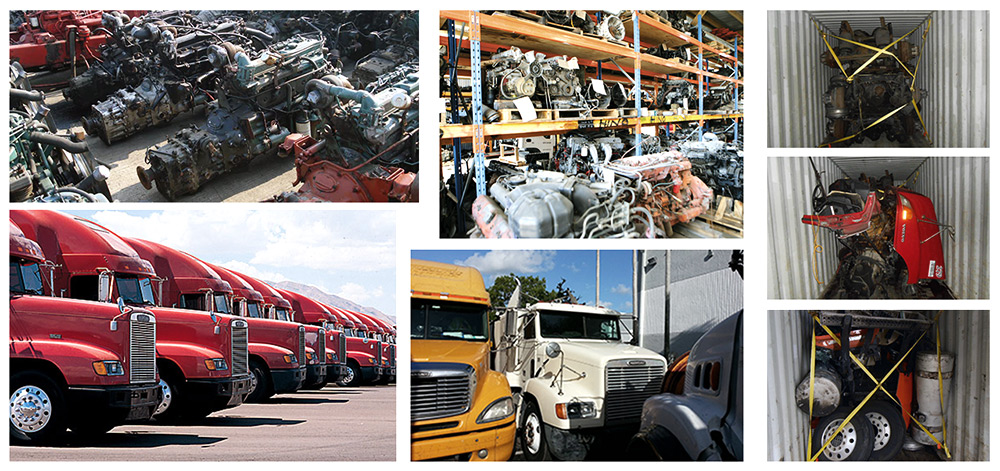 Our company offers direct access to the following 2 Auctions, which have the best selection of salvage cars and equipment for further dismantling and shipping to your country. For more details on the buying process, please visit the following page: Cars from USA.
| | | |
| --- | --- | --- |
| | | |
| Copart Auction offers more than a million annual sales of various types of machinery, including cars, trucks, motorcycles, boats, snowmobiles, jet skis, heavy equipment and more. | | IAAI Auctions specialize in the sale of damaged cars and trucks recovered from carjackings, rentals or cars confiscated by the court, and other types of vehicles and special equipment. |
Our company is a certified dealer of these auctions. We offer a full service spetr to purchase equipment from these auctions that includes:
Advice on purchasing
guarantee payment before the auction
transportation of any type of equipment to the port
dismantling and container loading
support in export and customs clearance
Other services on request
Contact us today to learn more about buying equipment from the United States and to discuss your business plan. Give us a chance to help grow your business and become your reliable partner in the United States.
Direct chat with one of our managers: by Skype:
Our phone number:

Тel +(81) 76434-9999
Fax +(81) 76-434-9911